Tag: touch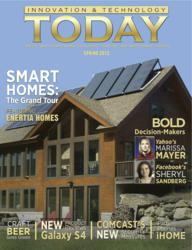 Denver, CO (PRWEB) July 09, 2013
The two driving forces in American business and ingenuity, innovation and technology, merge together in a most incisive and visually appealing way as Innovative Properties Worldwide, Inc. announces the premiere issue of Innovation & Technology Today.
Innovation & Technology is available on Zinio and Apple Newsstand for desktops and laptop computers, tablets, iPads and smart phones. It combines interviews with top national and international innovators, feature stories on the most dynamic segments of technology and business, and regular departments on the latest news and trends in innovation, technology and communications.
The magazine presentation takes advantage of enhanced, interactive digital publishing. Articles and interviews link to audio, video, photographs and dynamic websites, in addition to the stunning visual design and photography.
We have formed a direct relationship with our readers by presenting Innovation & Technology as an informative, visual conversation, publisher Charles Warner said. "We consider it an honor to cover new innovations in business and beyond, and talk firsthand with industry leaders at the forefront of that change. That's one of the reasons we became actual media partners with events like CEDIA, INPEX, Macworld/iWorld and CEO Space; a global entrepreneurial organization. Why just report on innovation when you can experience it first hand?"
The premiere issue of Innovation & Technology Today focuses on the smart home industry. Since 2010, the smart home design and technology industry has grown from $ 5 billion to $ 15 billion. According to Juniper Networks, the industry will top $ 60 billion in sales in 2016. In the United States, just 3% of residences are outfitted with smart technology, reflecting the growth potential that the magazine covers.
Conversations in the premiere issue include smart home technology innovators John Clements of Mitsubishi Electric, Michael Sykes of Enertia Homes, and Al Choperena of Smartenit. Also interviewed is Brad Adams, the author of "App Nation", which discusses the growing trend of small businesses to produce their own tablet and smartphone apps in a field that has exploded in the past five years.
In addition, Innovation & Technology Today presents recurring department stories on Communications, Social Media, Education, Security, Green Technology, and Women in Technology. The magazine also provides regular updates on new products; for the inaugural issue, guest contributor Chris Voss reviewed the Samsung Galaxy S4 phone. Voss is one of Forbes magazines top 50 Social Media Influencers.
With our departments and new product showcases, we take great care to balance our extended focus on one area such as smart home technology in our premiere issue with the many other fresh developments in innovation and technology, and how they are impacting business and the economy, editor Robert Yehling said.
The Summer 2013 issue of Innovation & Technology Today will expand by 50 percent, reflecting the magazines quickly established popularity among marketing and advertising partners. It will showcase Sports & Medical Technology. The Fall 2013 issue will focus on Energy & Transportation Technology, while in Winter 2013, the second Legacy Series Magazine will focus on Business Innovation while incorporating Innovation & Technology Today in print and digital publication. Advertising and marketing partnerships are available for all three issues to include onsite event marketing.
Innovation & Technology Today is available for subscription on the Zinio and Apple Newsstands as well as at http://www.legacyseriesmagazine.com. It is published by Innovative Properties Worldwide, Inc., headquartered in Denver, CO. with satellite offices in Tampa, FL and San Diego, CA. Curtis Circulation, the largest magazine distributor in the U.S., handles traditional print distribution. IPW, the purveyor of fine titles that focus on progressive living and business, also is a partner with Positive Impact Magazine and Amphibious Media Group.
For more information, contact Charles Warner or Kelsey Elgie at 720-708-4250. The latest updates, iBlogs and promotions and relevant social media campaigns can be followed through Facebook and twitter @legacyseriesmag
More Audio Press Releases